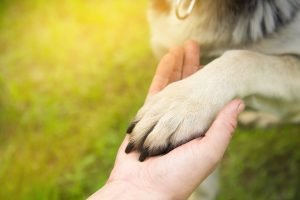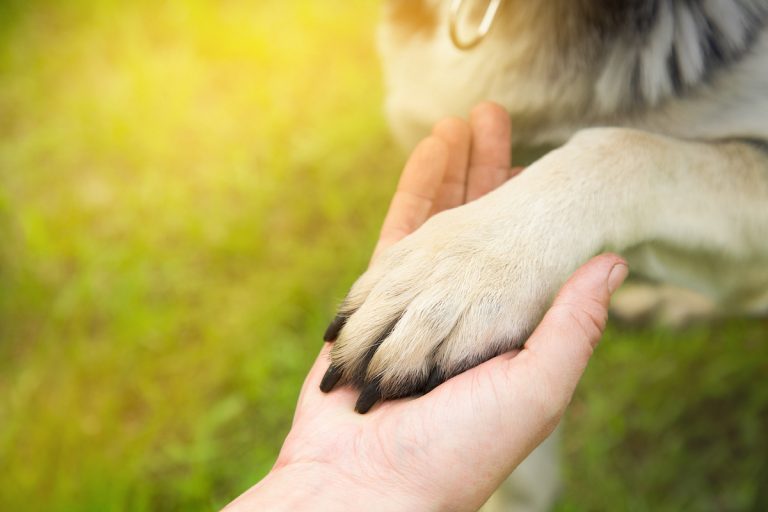 Include Pets in Your Estate Plan
Most of us consider our pets part of the family. But sometimes we don't think about including them in plans for what happens when we die or can no longer look after ourselves.
Part of our responsibility to those dependent upon us is to make sure that their care and comfort will continue uninterrupted should we become incapable of caring for them ourselves.
Genders and Partners are the oldest law firm in South Australia (est 1848), and as estate-planning experts they urge pet owners to prepare for the possibility that their animal companions may outlive them.
Legally, pets are considered property by courts, and securing their care can be complicated. So unless you plan, your pet could end up in a shelter or worse.
There are several ways to arrange for care for your pets after you've died or lost capacity.
Some people attempt an informal arrangement. Discussing options with your family or friends is one way to deal with what happens to our pets after we're gone.
Knowing who does and doesn't want to care for them is a great beginning. Be prepared for surprises when you open this topic and take nothing for granted.
A more formal way to provide for the future of your pets is to include them in your Will.
This can be accomplished by including a clause in your Will that designates who will care for your pet, and leave an appropriate amount of money to that person to provide for the care.
However, a Will doesn't take into account what will happen if you become incapacitated.
The best, most flexible and comprehensive way to plan for pets, one that includes incapacity, is to create a pet trust. These trusts can be set up with the help of an estate planner.
Using a pet trust allows you designate exactly how funds are to be used and also creates a legal responsibility for the pet guardian to care for your pet.
For those who own pets, they are part of the family. They are often refer to them as fur- babies. So it's important to make sure they are loved and taken care of after we are gone or in the event we become too incapacitated to care for them ourselves.
Pets are not people and in Australia they cannot inherit property. So you can't leave a sum of money in your will for Spot or Fluffy to use to find a great new home.
We spend hundreds of dollars on their toys and vet care. Why not take the time to make sure they are taken care of beyond those things when we no longer can?
A pet trust is a legal arrangement to provide care for a pet after its owner dies or becomes incapacitated. A pet trust is a good option for pet owners who want to provide for their pets when they can no longer do so.
How a Pet Trust works
When you set up a trust, you have the ability to specify exactly how you want any assets in the trust to be handled, on behalf of yourself and the trust's beneficiaries. A pet trust operates on a similar principle.
You set up the trust and name a trustee. The trustee holds cash or other assets for the benefit of your pets. Funds held in the trust are used to pay for the pet's care and related expenses.
That includes:
Routine veterinary check-ups
Emergency veterinary care
Grooming costs
Feeding and boarding costs
You could also use a pet trust to specify end of life care treatment for pets, and any burial or cremation arrangements that you'd prefer once your pet passes away.
Generally, a pet trust can be established to remain in place for the pet's life expectancy.
In terms of the types of pets that can be covered by a pet trust, the list includes the pets you'd expect: cats, dogs, birds, turtles, snakes, lizards, hamsters, and similar small animals. But, you could also set up a pet trust for larger animals, such as a horse.
Establishing a Pet Trust
Creating a pet trust is similar to creating any other type of trust. An experienced lawyer who specialises in estate planning can help with drafting the trust document itself.
You'd need to identify the person you want to serve as trustee, and any successor trustees if you're worried about your pet outliving them.
When structuring the pet trust, there are some specific things to consider, such as:
Your pet's current standard of living and care
The level of care you expect your pet's new caregiver to offer
Who you would like to act as caregiver, and as successor caregivers
How often the caregiver should report on your pet's status to the trustee
Your pet's life expectancy
The likelihood of your pet developing any serious health issues as it ages
The amount you estimate your pet's caregiver will need to handle pet-related expenses
What will happen to any remaining money in the trust once your pet passes away
That last one is important if you don't want any leftover funds to go to waste. You could have the money split up among the beneficiaries to your Will or donate it to charity. Your pet trust should include a contingency plan for those scenarios.
When to setup a Pet Trust
Think about when the pet trust will take effect. You may not anticipate becoming permanently incapacitated but it may be wise to have your pet trust plan for that possibility.
There are two options:
Establish the Pet Trust now, so it can have effect if you become incapacitated (but still alive); or
Have the Pet Trust as part of your Will, to only have effect once you die.
It's wise to ensure that your pet trust clearly identifies your pet so that no one is able to abuse its terms and access trust funds fraudulently.
A good way to do this is to have your pet microchipped if you haven't done so already and record the chip number in the pet trust document. You can include photos of your pet and a physical description.
Be Clear About Your Wishes
With a pet trust, it's okay to be as specific as possible about how you'd like your pet to be taken care of. For example, there may be certain foods that should be avoided or a specific brand of food your pet prefers.
You may have gotten into regular routines or habits with your pets, such as taking them for walks in a particular spot, that you'd like the caregiver to continue to observe.
All of these things can be included in a pet trust. An estate planning lawyer can help you shape your plan to cover every situation that you think is relevant.
The biggest priority in estate planning should be your family members and loved ones. Including your pets in the mix should be important too.
For more information on Wills & estates and creating a modern integrated estate plan to care for your pets, or other estate planning topics, contact the oldest law firm in South Australia – Genders and Partners (established 1848 and specialising only in Trusts, Wills and Estates) to explore our articles and visit our website today to schedule your free and convenient telephone consultation!
SPECIAL REPORT

"Pet Trusts"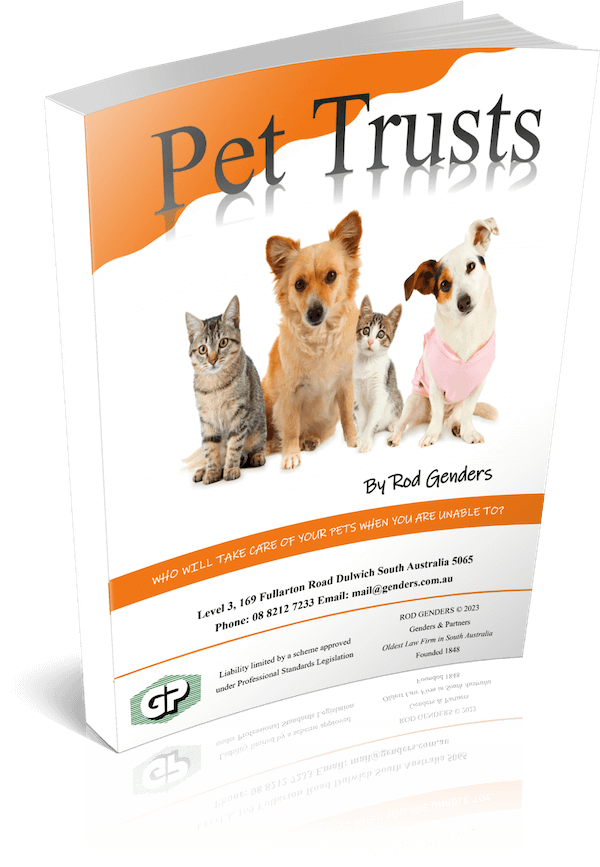 Who will take care of your pets when you are unable to?
Check out the full report from senior Australian lawyer Rod Genders.
Valuable insights to prepare for the future and help protect yourself, your family and your assets.
NEED ADVICE? JUST ASK US A QUESTION.
(replies during business hours)