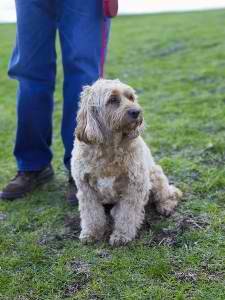 If you become incapacitated or die, what will happen to your pets?
Most pets are dependent on humans for food and shelter, and are unable to look after themselves. It is cruel and illegal to release your pet into the wild to fend for itself, and there may be environmental concerns even if it could survive.
As a loving and responsible pet-owner you should include the future well-being of your surviving pets in your   plan.
Genders & Partners is the oldest law firm in South Australia, and we have the knowledge, experience and sensitivity to ensure that the right provisions are made for the ongoing care of your pets if you should outlive them or lose the ability to care for them.
If you die or get carried off to hospital suddenly, your pet might be enclosed in a yard, a cage or inside the house.
Your family has enough to deal with getting to grips with your illness or death, let alone worrying about a house full of pets. Will they even remember that you have a pet?  Probably not for several days, if at all. 
We suggest setting up a South Australian Pet Trust, as this is a legal document which covers the ongoing care of domestic animals in specific circumstances, such as in the event of your death or incapacity.
It names new caregivers or requests that trustees search for new homes for your pets. A trustee is then legally authorised to carry out your wishes from the day of your death or incapacity.
A Pet Trust in South Australia differs from a Will, which may take weeks or months to come into effect, as it may require a Court process known as Probate.
If you don't make provision for your pets in your estate plan then your executor or agent might not see the welfare of your pets as a high priority.
The commonest action taken is to relocate the pet to a sanctuary or other charitable animal welfare organisation. These agencies are inundated with unwanted pets every year.
Even though they work hard try to find new homes, the hard truth is that older pets are euthanised to relieve the heavy burden of the costs associated with the care of these animals.
If you truly care about your pet, you should always ensure there is an adequate stockpile of food in your home so in the event of you unexpectedly becoming unable to care for them, your friends & relatives will be able to meet your pets' needs with a minimum of fuss.
If you live in South Australia, the best long term solution for your pet, is to contact Genders & Partners who will help you set up a Pet Trust in Adelaide to ensure your pet is cared for into the future and for the remainder of its life.
Contact us today on (08) 8212 7233 to arrange a FREE telephone consultation and to request a FREE copy of our special Report: "7 Things You Must Know Before You Make Your Will". Genders and Partners is located at Suite V1, Level 3, 169 Fullarton Road, Dulwich SA 5065
SPECIAL REPORT

"Pet Trusts"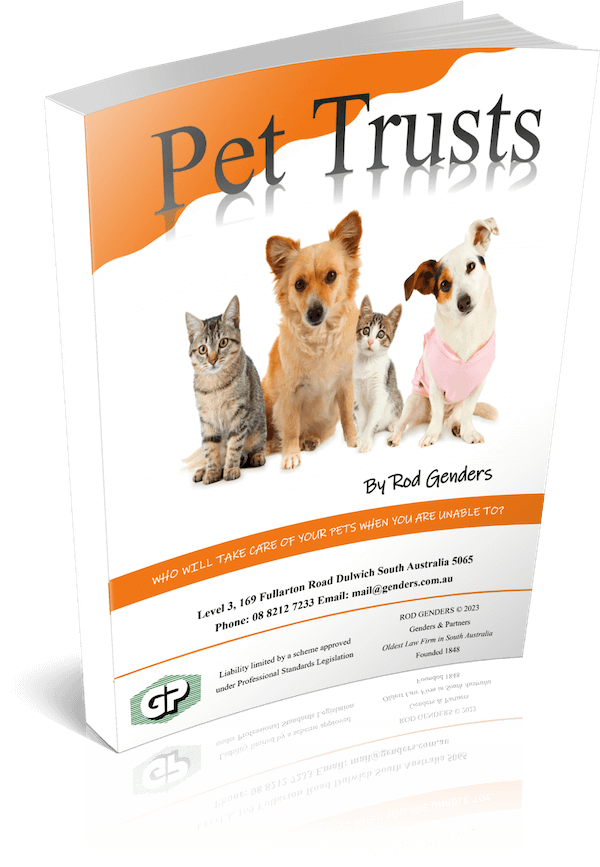 Who will take care of your pets when you are unable to?
Check out the full report from senior Australian lawyer Rod Genders.
Valuable insights to prepare for the future and help protect yourself, your family and your assets.
NEED ADVICE? JUST ASK US A QUESTION.
(replies during business hours)