Many types of treatment expenses can be claimed, including:
Ambulance
Hospital
General Medical (such as General Practitioner)
Specialist Medical (such as Spinal, Orthopaedic, Neurosurgeon, Pain Management, Psychiatrist, Rehabilitation, Occupational etc)
Pharmaceutical (prescribed and over-the-counter medication)
Physiotherapy
Nursing
Attendant carers
Chiropractic
Devices, equipment, aids & supplies (crutches, walkers, wheelchairs, patient-lifters, TENS units etc)
Psychologist
Therapeutic massage
Acupuncture & acupressure
You do not need to seek permission from Allianz to have any specific type of treatment – this is a decision for you after discussion with your treating doctors.  However, if you wish Allianz to fund any treatment on an ongoing basis (ie before settling your car accident compensation claim), then you will need a prior referral from a treating doctor AND prior funding approval from Allianz.
In the alternative, if you have alternate methods of funding your preferred treatment (such as private health insurance), then you may do so without reference to Allianz.
Some Details On Car Accident Compensation Claims
As the injured person seeking treatment, you are personally responsible for your treatment expenses incurred. South Australian law does not create a legal obligation on MAC or Allianz to pay accounts progressively, with some exceptions.  Treatment providers are entitled to look to you for immediate payment of their accounts. You should therefore enquire about the cost of treatment and eligibility for progress payments before agreeing to treatment.
MAC/Allianz might agree to fund some medical treatment, in their discretion.  Before considering such a request, they will insist that you comply with their claim notification requirements. They may also require that liability is not in dispute or has been agreed.
MAC/Allianz will insist that treatment has been reasonably incurred as a result of the car accident, and that the amount of the account is appropriate.  They frequently require a supporting formal written report or treatment-plan from a treating doctor before considering such treatment-funding requests.
A senior lawyer experienced in car accident compensation claims in Adelaide will know what to do, and what information to gather, to maximise your treatment-funding options.
Helping You With Car Accident Compensation In Adelaide
Strict time limits apply for car accident compensation claims in Adelaide. Don't delay in seeking timely specialist legal advice.  Contact Genders & Partners today on (08) 8212 7233 now to schedule a free telephone consultation with a senior specialist Adelaide compensation lawyer.
Genders & Partners is a Gold Alliance member firm of the Law Society of South Australia.
Managing director Rod Genders LLB, GDLP, TEP holds the state record for the highest-ever personal injury damages award in South Australia. Rod has been practising specialised law in the field of personal injury for over 28 years, and has been involved in several of Australia's largest personal injury claims.
Rod Genders is a member of the Law Society of South Australia; Member of Law Council of Australia; Member of Society of Trust and Estate Practitioners; Associate Member of American Bar Association.
Ask about our no-obligation, free first interview for personal injury claims.
Ask about our No-Win-No-Fee payment option.
"Request an Appointment for a FREE Telephone Consultation and Receive Your FREE Report Instantly!"
FREE REPORT

 "7 Things You Must Know Before You Make a Third Party Claim"
In this report you will Learn: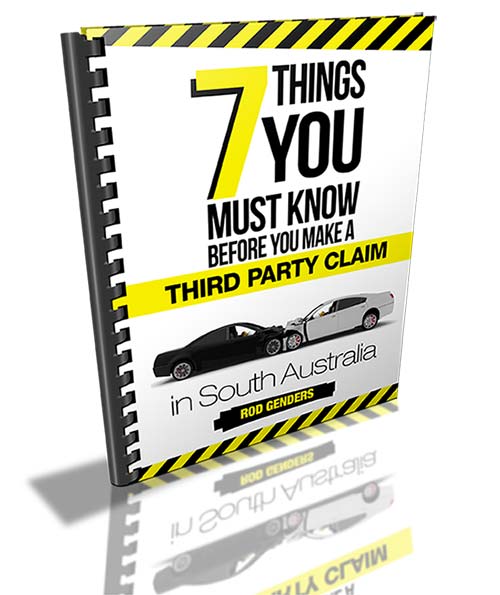 The third-party insurer is NOT your insurer for the purposes of your own personal injury claim

Very few lawyers truly specialise in MVA claims

What is Personal Service, and how do you get it?

The Most Common Personal Injury Claim Mistakes, how they can cost your family a fortune, and How to Avoid Them.

Why choosing the wrong lawyer can be a LOT more expensive than you might think.

Why should I do business with Genders & Partners?

Some International Trends in Insurance Tactics
NEED ADVICE? JUST ASK US A QUESTION.
(replies during business hours)