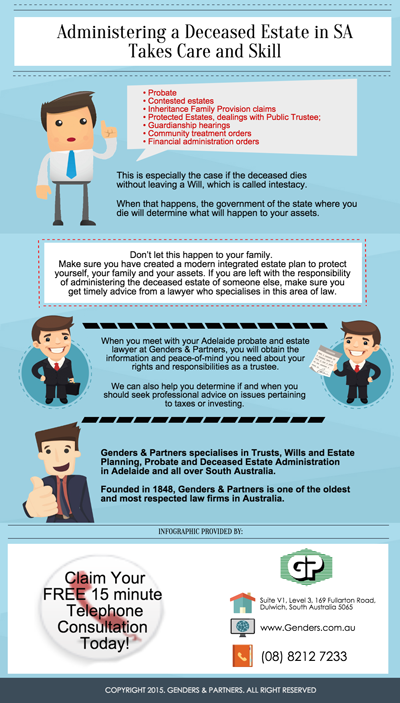 When administering a Deceased Estate, there are lots of traps for the unwary involving:
Probate
Contested estates
Inheritance Family Provision claims
Protected Estates, dealings with Public Trustee;
Guardianship hearings
Community treatment orders
Financial administration orders
This is especially the case if the deceased dies without leaving a Will, which is called intestacy.
When that happens, the government of the state where you die will determine what will happen to your assets.
Don't let this happen to your family. Make sure you have created a modern integrated estate plan to protect yourself, your family and your assets. If you are left with the responsibility of administering the deceased estate of someone else, make sure you get timely advice from a lawyer who specialises in this area of law.
When you meet with your Adelaide probate and estate lawyer at Genders & Partners, you will obtain the information and peace-of-mind you need about your rights and responsibilities as a trustee.
We can also help you determine if and when you should seek professional advice on issues pertaining to taxes or investing.
Genders & Partners specialises in Trusts, Wills and Estate Planning, Probate and Deceased Estate Administration in Adelaide and all over South Australia.
Founded in 1848, Genders & Partners is one of the oldest and most respected law firms in Australia.
Claim Your FREE 15 minute Telephone Consultation Today! Call us on (08) 8212 7233
FREE REPORT

"7 Things You Must Know About Probate and Estate Administration"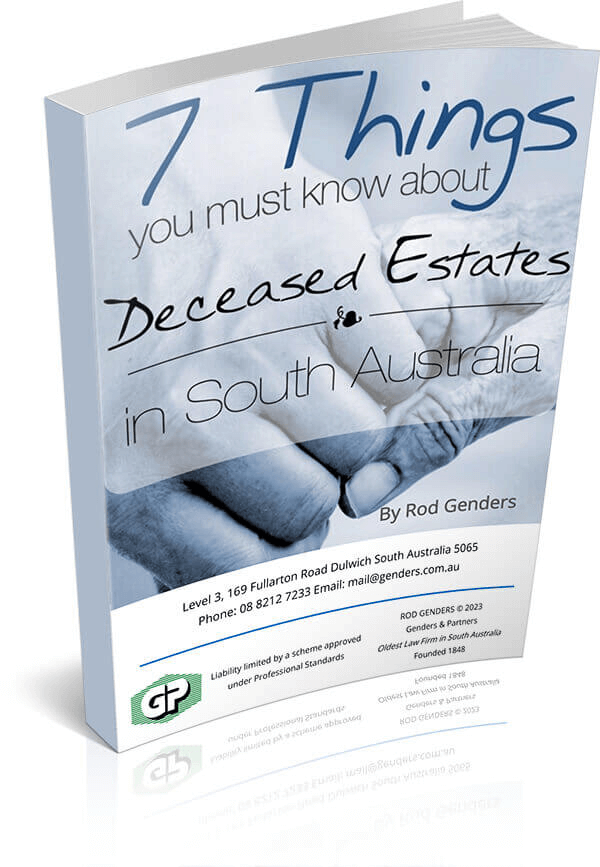 In this report you will Learn:
What is Probate

Duties of Executors

Who Should Serve as Executor

Executor's Commissions

Legal Fees and Expenses

Sale of Real Estate and Other Property

Challenges to the Will or Estate
NEED ADVICE? JUST ASK US A QUESTION.
(replies during business hours)