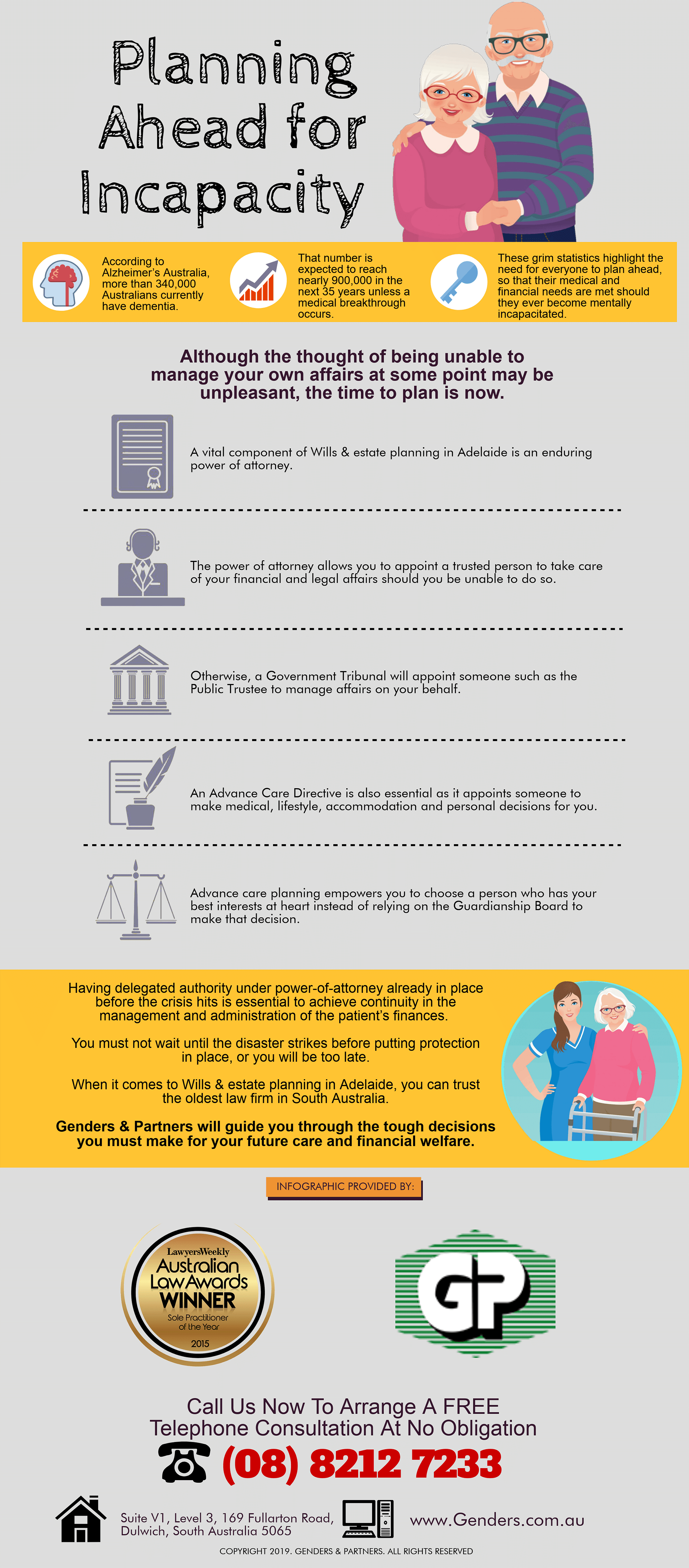 According to Alzheimer's Australia, more than 340,000 Australians currently have dementia.
That number is expected to reach nearly 900,000 in the next 35 years unless a medical breakthrough occurs.
These grim statistics highlight the need for everyone to plan ahead,
So that their medical and financial needs are met should they ever become mentally incapacitated.
Although the thought of being unable to manage your own affairs at some point may be unpleasant, the time to plan is now.
A vital component of Wills & estate planning in Adelaide is an enduring power of attorney.
The power of attorney allows you to appoint a trusted person to take care of your financial and legal affairs should you be unable to do so.
Otherwise, a Government Tribunal will appoint someone such as the Public Trustee to manage affairs on your behalf.
An Advance Care Directive is also essential as it appoints someone to make medical, lifestyle, accommodation and personal decisions for you.
Advance care planning empowers you to choose a person who has your best interests at heart instead of relying on the Guardianship Board to make that decision.
Having delegated authority under power-of-attorney already in place before the crisis hits is essential to achieve continuity in the management and administration of the patient's finances.
You must not wait until the disaster strikes before putting protection in place, or you will be too late.
When it comes to Wills & estate planning in Adelaide, you can trust the oldest law firm in South Australia.
Genders & Partners will guide you through the tough decisions you must make for your future care and financial welfare.
Request Your FREE 15 minute preliminary Telephone Consultation Today! Call us on (08) 8212 7233.
SPECIAL REPORT

"7 Things You Must Know Before You Make Your Will"
In this report you will Learn:
Why home-made Wills can be a LOT more expensive than you might think.

The secret weapons used by the rich & powerful to protect their assets, and transfer their wealth two or three generations ahead.

How Estate and Trustee Companies make BIG money from "free" Wills.

The Most Common Estate Planning Mistakes, how they can cost your family a fortune, and How to Avoid Them.

The Elements of a Sound Estate Plan – why a Will alone is not enough.

How to Make Sure Your Assets Stay in Your Family and are not lost to creditors, lawsuits or ex-spouses.

How to guard against challenges to your Estate after you're gone.
NEED ADVICE? JUST ASK US A QUESTION.
(replies during business hours)