Your loved one has entrusted you to administer their estate, and you probably feel overwhelmed with the burden of this responsibility in the midst of your grief. Depending on the size of the estate, your duties can become quite complicated, but the Adelaide Probate & Estate law specialists at Genders & Partners can guide you through the process to ensure that you carry out your responsibilities with a minimum of stress.
Locating the Will and Safeguarding Assets
As executor, your first job after the person's death is to locate the original Will, which may be with the deceased's important papers or held securely at a trustee company or lawyer's office. If you do not have the original in hand right away, you can still work with a copy to familiarise yourself with the contents and make funeral arrangements according to the person's wishes.
You should also secure the deceased's assets as soon as possible, including the house, cars and valuable items, to keep them safe from predators. Likewise, the person's bank, pension office and other interested parties should be notified of the death so that financial accounts can be frozen.
Obtaining a Grant of Probate in Adelaide
Your Adelaide Probate & Estate law specialists at Genders & Partners can determine if you need to go through probate, which is a process that validates the Will and allows the executor to carry out the deceased's wishes for distributing assets. If probate is necessary, the lawyer can verify the assets, gather the appropriate information and file the application with the court. It may take several weeks after lodging the proper documents for the court to issue the grant or probate.
Paying Debts and Administering Assets
After receiving consent to administer assets, one of the executor's tasks is to pay off the deceased person's debts and taxation obligations, which can include calculating capital gains tax. It is important to take specialist advice about such issues.  Once you've settled these matters, you may need to assess the value of remaining assets and distribute them among beneficiaries according to the provisions of the Will. This complicated task may involve selling property or administering a trust, and the expertise of a seasoned estate planning lawyer such as the Adelaide Probate & Estate law specialists at Genders & Partners will prove invaluable in these endeavours.
Adelaide Probate & Estates Experts
The Adelaide Probate & Estate law specialists at Genders & Partners can help you with these and numerous other tasks that arise as you administer the estate. To make your job as a deceased estate executor in Adelaide as simple as possible, contact us today to schedule your no-cost telephone consultation.
FREE REPORT

 "Deceased Estates Simplified"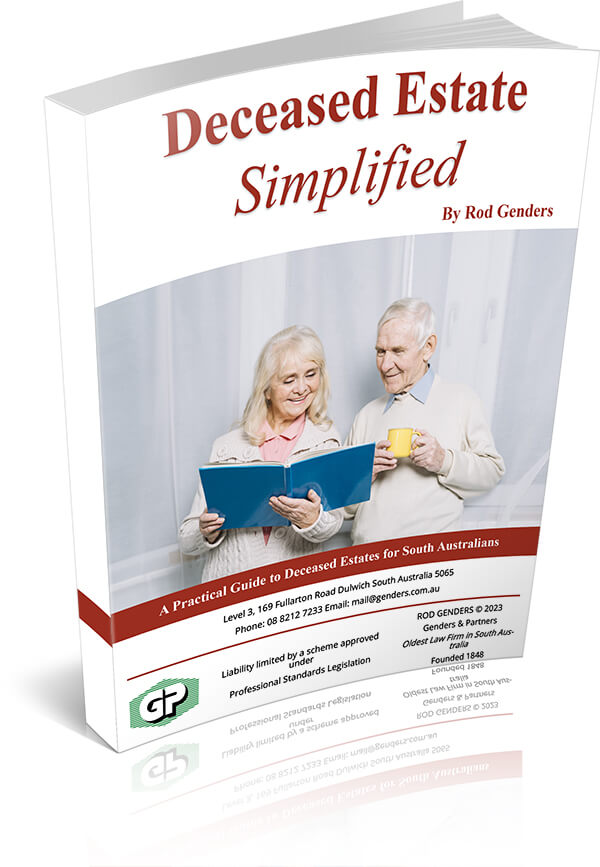 In this report you will learn:
A simple, easy to understand explanation of the estate settlement process so you anticipate what's to come and can plan your next steps.
Detailed information on your duties and responsibilities as an Executor, Administrator or Personal Legal Representative of an estate.
How to handle delicate situations with beneficiaries and dependents and what you can do to resolve conflict.
What you need to do if the deceased did not have a will
How to deal with personal effects, property, and taxes.
NEED ADVICE? JUST ASK US A QUESTION.
(replies during business hours)