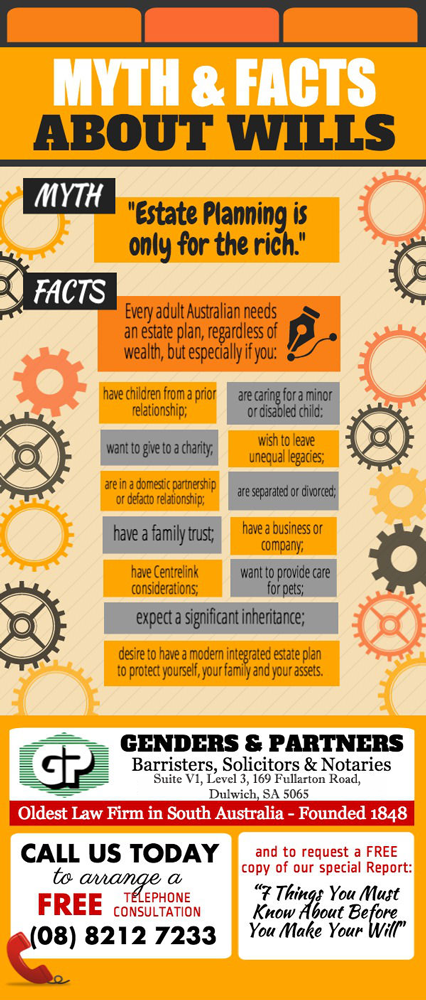 MYTH:
"Estate Planning is only for the rich."
FACTS:
Every adult Australian needs an estate plan, regardless of wealth, but especially if you:
have children from a prior relationship;
are caring for a minor or disabled child;
want to give to a charity;
wish to leave unequal legacies;
are in a domestic partnership or defacto relationship;
are separated or divorced;
have a family trust;
have a business or company;
have Centrelink considerations;
want to provide care for pets;
expect a significant inheritance;
desire to have a modem integrated estate plan to protect yourself, your family and your assets.
Contact us on (08) 8212 7233 to claim your FREE 15 Minute Telephone Consultation today!
SPECIAL REPORT

"7 Things You Must Know Before You Make Your Will"
In this report you will Learn:
Why home-made Wills can be a LOT more expensive than you might think.

The secret weapons used by the rich & powerful to protect their assets, and transfer their wealth two or three generations ahead.

How Estate and Trustee Companies make BIG money from "free" Wills.

The Most Common Estate Planning Mistakes, how they can cost your family a fortune, and How to Avoid Them.

The Elements of a Sound Estate Plan – why a Will alone is not enough.

How to Make Sure Your Assets Stay in Your Family and are not lost to creditors, lawsuits or ex-spouses.

How to guard against challenges to your Estate after you're gone.
NEED ADVICE? JUST ASK US A QUESTION.
(replies during business hours)