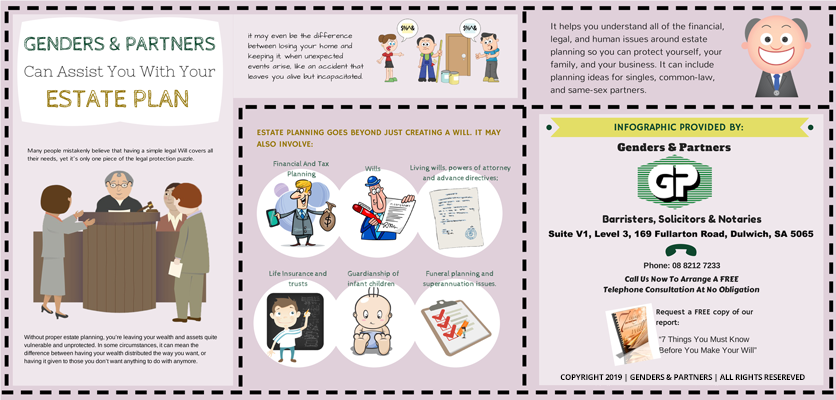 Many people mistakenly believe that having a simple legal Will covers all their needs, yet it's only one piece of the legal protection puzzle.
Without proper estate planning, you're leaving your wealth and assets quite vulnerable and unprotected. In some circumstances, it can mean the difference between having your wealth distributed the way you want, or having it given to those you don't want anything to do with anymore.
it may even be the difference between losing your home and keeping it, when unexpected events arise, like an accident that leaves you alive but incapacitated. Estate Planning in Adelaide goes beyond just creating a Will. It may also involve:
financial and tax planning;
Wills;
living wills, powers of attorney and advance directives;
life insurance;
guardianship of infant children;
trusts;
funeral planning;
superannuation issues.
It helps you understand all of the financial, legal, and human issues around estate planning so you can protect yourself, your family, and your business. It can include planning ideas for singles, common-law, and same-sex partners.
Contact  Genders and Partners today on (08) 8212 7233 to arrange a FREE telephone consultation and to request a FREE copy of our special Report: "7 Things You Must Know About Wills and Estate Planning". Genders and Partners is located at Suite V1, Level 3, 169 Fullarton Road, Dulwich SA 5065

SPECIAL REPORT

"7 Things You Must Know Before You Make Your Will"
In this report you will Learn:
Why home-made Wills can be a LOT more expensive than you might think.

The secret weapons used by the rich & powerful to protect their assets, and transfer their wealth two or three generations ahead.

How Estate and Trustee Companies make BIG money from "free" Wills.

The Most Common Estate Planning Mistakes, how they can cost your family a fortune, and How to Avoid Them.

The Elements of a Sound Estate Plan – why a Will alone is not enough.

How to Make Sure Your Assets Stay in Your Family and are not lost to creditors, lawsuits or ex-spouses.

How to guard against challenges to your Estate after you're gone.
NEED ADVICE? JUST ASK US A QUESTION.
(replies during business hours)