Has a friend or loved one named you in his or her Will as executor of their deceased estate? If so, you may be confused about your responsibilities and fear that you are not up to the task.
You may be overwhelmed, but the Adelaide probate and estate administration lawyers at Genders & Partners are here to put your mind at ease about your role as an estate executor.
What's the Job of an Estate Executor?
These are some of your main responsibilities when you are named the executor of a deceased estate:
Locate the Will: Hopefully the original

Will

is often located at the lawyer's office, but it could actually be anywhere, including among the deceased's important papers. When you find the original Will, you should take great care not to alter it in any way. This includes not marking it, and not removing any staples or paper clips. Your best bet is to obtain certified copies to work with and keep the original in a safe place. You'll need to familiarise yourself with the Will's contents immediately.
Make funeral arrangements: Provisions for the funeral are sometimes outlined in the Will. It is your job to contact the funeral director and make plans according to the wishes of the deceased. Funeral expenses will be paid from the estate before assets are handed out to beneficiaries.
Make important notifications, such as to Centrelink, Medicare, DVA, Private Health fund etc.
Safeguard the assets: Your next responsibility is to identify, locate and safeguard the assets. This job may include freezing bank accounts and placing cash, jewellery & other valuable items in a safe place. You should secure the deceased person's house, and keep up any insurances on the property which the deceased had in place. You should also collect important papers pertaining to bank accounts, investments and life insurance policies and make a list of all assets.
Get a grant of probate: Your probate lawyer in South Australia will work on your behalf to obtain this order of the court, which proves that the Will is valid. All assets are frozen until you are granted probate.
Pay debts and distribute assets: After probate is granted, it is your responsibility to take care of the deceased's outstanding debts and taxes for the financial year. Once taxes are paid, you can begin distributing assets to beneficiaries.
Probate and Estate Administration Lawyers in South Australia
Administering a deceased estate, with or without Probate, is not a simple matter, and an executor would be well-served to take advice and assistance with this important responsibility. Genders & Partners is the oldest law firm in South Australia (founded 1848), and we specialise in Wills & Estates. Contact our experienced estate planning lawyers in Dulwich today. Offering a free initial telephone consultation, we welcome clients from the Adelaide metro area and throughout South Australia.
FREE REPORT

 "7 Things You Must Know About Probate and Estate Administration"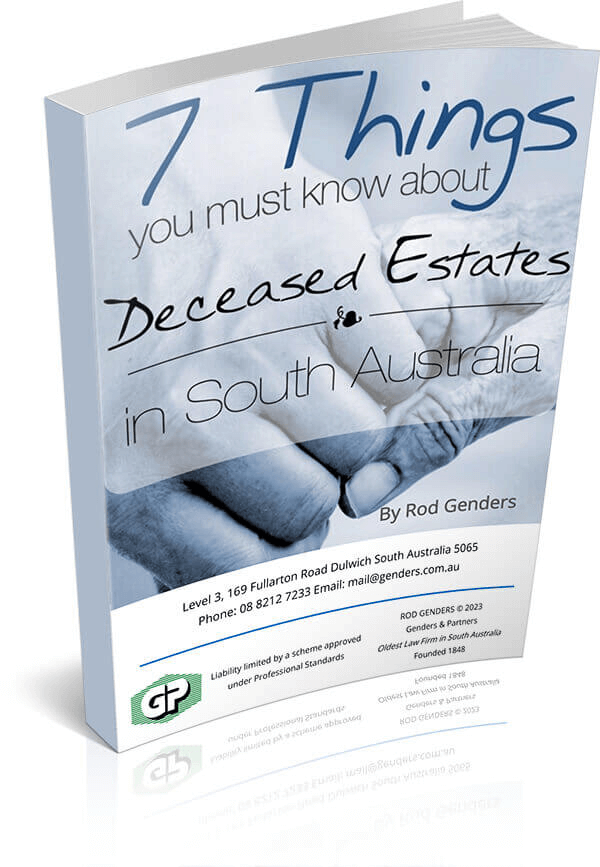 In this report you will Learn:
What is Probate

Duties of Executors

Who Should Serve as Executor

Executor's Commissions

Legal Fees and Expenses

Sale of Real Estate and Other Property

Challenges to the Will or Estate
NEED ADVICE? JUST ASK US A QUESTION.
(replies during business hours)