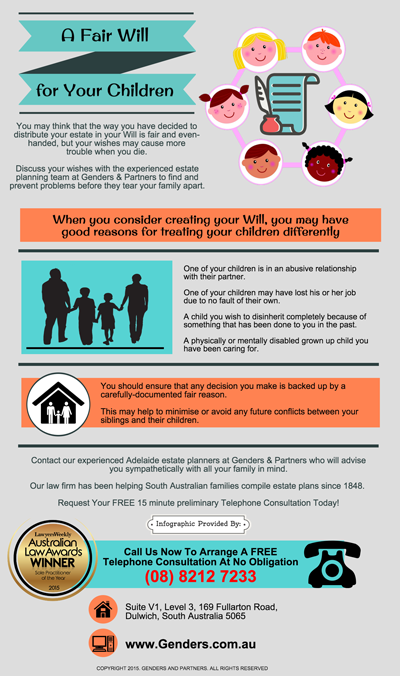 You may think that the way you have decided to distribute your estate in your Will is fair and even-handed, but your wishes may cause more trouble when you die.
Discuss your wishes with the experienced estate planning team at Genders & Partners to find and prevent problems before they tear your family apart.
When you consider creating your Will, you may have good reasons for treating your children differently.
One of your children is in an abusive relationship with their partner.
One of your children may have lost his or her job due to no fault of their own.
A child you wish to disinherit completely because of something that has been done to you in the past.
A physically or mentally disabled grown up child you have been caring for.
These situations are extremely sensitive, and it's critical to take timely and specialist legal advice from a solicitor who is experienced in estate planning.
You should ensure that any decision you make is backed up by a carefully-documented fair reason.
This may help to minimise or avoid any future conflicts between your siblings and their children.
Contact our experienced Adelaide estate planners at Genders & Partners who will advise you sympathetically with all your family in mind.
Our law firm has been helping South Australian families compile estate plans since 1848.
Request Your FREE 15 minute preliminary Telephone Consultation Today! Call us on (08) 8212 7233.