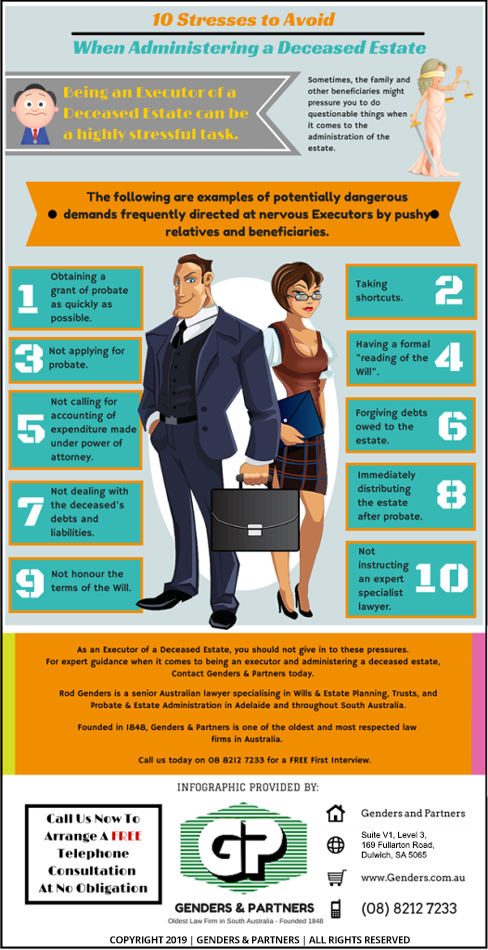 Being an Executor of a Deceased Estate can be a highly stressful task.
Sometimes, the family and other beneficiaries might pressure you to do questionable things when it comes to the administration of the estate.
The following are examples of potentially dangerous demands frequently directed at nervous Executors by pushy relatives and beneficiaries.
Obtaining a grant of probate as quickly as possible.
Taking shortcuts.
Not applying for probate.
Having a formal "reading of the Will".
Not calling for accounting of expenditure made under power of attorney.
Forgiving debts owed to the estate.
Not dealing with the deceased's debts and liabilities.
Immediately distributing the estate after probate.
Not honour the terms of the Will.
Not instructing an expert specialist lawyer.
As an Executor of a Deceased Estate, you should not give in to these pressures.
For expert guidance when it comes to being an executor and administering a deceased estate, Contact Genders & Partners today. Rod Genders is a senior Australian lawyer specialising in Wills and Estate Planning as well as in Probate and Estate Administration in Adelaide and all of South Australia.
Founded on 1848, Genders & Partners is one of the oldest and most respected law firms in Australia. Call us today on 08 8212 7233 for a FREE First Interview.
FREE REPORT

"7 Things You Must Know About Probate and Estate Administration"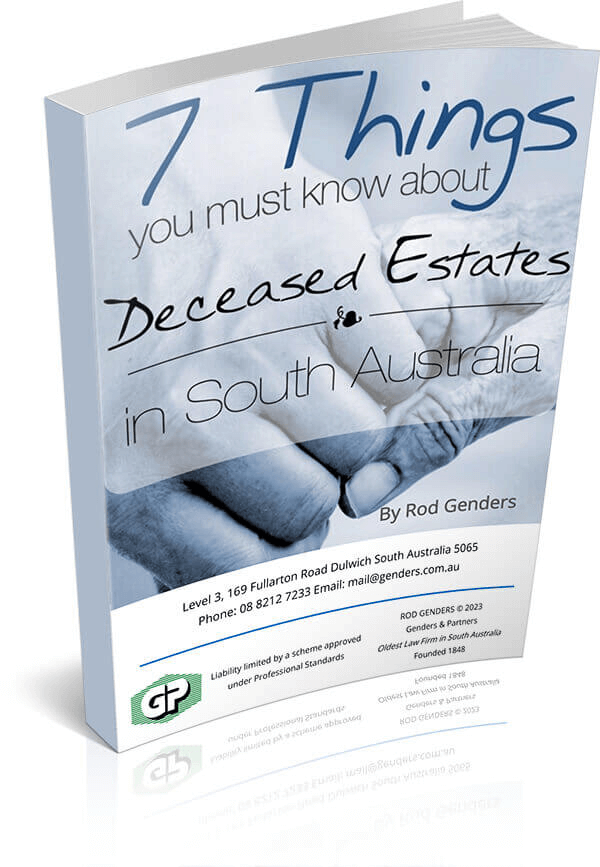 In this report you will Learn:
What is Probate

Duties of Executors

Who Should Serve as Executor

Executor's Commissions

Legal Fees and Expenses

Sale of Real Estate and Other Property

Challenges to the Will or Estate
NEED ADVICE? JUST ASK US A QUESTION.
(replies during business hours)