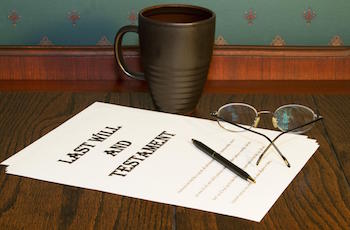 Creating a Will gives us the peace of mind that comes from knowing that our estate will be distributed according to our wishes. But the desire to avoid the expenses normally associated with Will preparation is tempting some people these days to consider using Do-It-Yourself Will Kits.
At first look, DIY Will kits might seem to be cheaper and save some time and travel involved in having a legal professional prepare a Will, BUT the savings in time and money could be illusory if there are even minor mistakes or unforeseen events that cause the Will to be invalid.
Remember: any mistakes you make will only become apparent after you're dead, and it's too late to fix them.
Determining the wishes of the deceased is a legal issue by its very nature, and consequently, if the Will is not properly prepared and executed, it could be invalidated or challenged, sometimes complicating things even worse than if there had been no Will at all.
The chances of problems arising from a poorly prepared DIY Will are high, and very few people actually have the simple and straightforward distribution instructions and real life circumstances necessary to qualify for attempted use of these kits.
Likelihood of complications, added expenses, and increased stress on your beneficiaries are much higher than if you had taken the time to make a professionally prepared Will to ensure smooth processing at one of the most stressful times in our lives.
The professionals at the oldest law firm in South Australia, Genders and Partners want you and your loved ones to experience the least amount of stress and that your wishes are carried out exactly as you wish without any costly complications.
So to assist you to avoid problems for your family, here are the top five reasons to avoid the DIY Will Kit temptation:
The Dangers of DIY Wills
WASTING TIME AND ENERGY: What may seem like a savings in the short term, can easily turn into an expensive nightmare in the future, costing your beneficiaries time, money, and stress, and ultimately preventing your wishes from being carried out. The whole purpose of creating your Will could be defeated if it is not properly prepared or executed.
IMPROPER EXECUTION: The law regarding Wills have strict guidelines dictating how they are to be signed and witnessed. If the Will does not meet those requirements, it could be invalidated and more easily challenged. Many times people make improper alterations or amendments to their Wills after they have been drawn up and signed.
These changes will not be valid unless properly executed and may cause the entire instrument to be invalidated. At best it could add considerable legal expenses and delay execution of the Will for a long time.
AMBIGUITY: Inaccurate instructions are a real danger in homemade Wills. What passes for obvious and clear instructions at the time when the Will is written, may be unclear and confusing to future readers who do not share the insights that the author took for granted.
Legal language is designed to avoid inaccuracies in common language, even though it can be confusing to the average lay person. This can lead to very costly and time consuming challenges and may lead to large portions of your estate being used for legal expenses or even being distributed to the Government.
UNANTICIPATED DISTRIBUTION CIRCUMSTANCES: The instructions in a DIY Will might not include all of the possible circumstances regarding executors and beneficiaries. Changes that occur after the Will has been finished can complicate or invalidate it. Changes in marital status, the addition of children or other beneficiaries can invalidate or complicate distribution, and cost a lot of money to sort out.
Keep in mind, that family law regarding what constitutes a legally binding relationship is complex and could have huge, costly implications if there are any challenges to the Will. Getting professional help while preparing this important document could easily avoid costly, unnecessary mistakes.
UNKNOWN FINANCIAL COMPLEXITIES: In rare and simple circumstances, then a DIY Will might be adequate. But if your assets include business interests, overseas investments, superannuation funds, or other funds with complex legal regulations regarding distribution, the language of the Will needs to reflect those complexities.
A DIY kit Will is almost certainly inadequate to handle such complexities and most people lack the legal knowledge to adequately prepare for the problems associated with probate law regarding such matters.
Most people wouldn't dream of installing their own toilet or air-conditioner as these require specialised knowledge to avoid health and safety problems later on. So why would anyone think it is a good idea to DIY the most important legal document in your family's life? Don't risk it.
Contact Us
After you are gone, you want your loved ones to be able to follow your wishes exactly, so that your assets go where you want without any costly probate problems. The professionals at Genders and Partners want to help you make a Will so that your wishes can easily and successfully followed. An ounce of prevention now can save your loved ones a pound of problems later.
Be prepared for the future and enjoy the peace of mind that comes from knowing that your estate will be safe and secure after you are gone.
Genders & Partners is the oldest law firm in South Australia, and one of its most respected. We have been helping South Australians protect themselves and their families since 1848. We'll be glad to help you in creating your Wills in Adelaide. Contact us today on 08 8212 7233 to arrange a FREE telephone consultation and to request a FREE copy of our special Report: "7 Things You Must Know About Wills and Estate Planning".
SPECIAL REPORT

"7 Things You Must Know Before You Make Your Will"
In this report you will Learn:
Why home-made Wills can be a LOT more expensive than you might think.

The secret weapons used by the rich & powerful to protect their assets, and transfer their wealth two or three generations ahead.

How Estate and Trustee Companies make BIG money from "free" Wills.

The Most Common Estate Planning Mistakes, how they can cost your family a fortune, and How to Avoid Them.

The Elements of a Sound Estate Plan – why a Will alone is not enough.

How to Make Sure Your Assets Stay in Your Family and are not lost to creditors, lawsuits or ex-spouses.

How to guard against challenges to your Estate after you're gone.
NEED ADVICE? JUST ASK US A QUESTION.
(replies during business hours)