Click on each item to expand or collapse it
Can a Justice of the Peace perform the functions of a Notary Public?
Can anyone become a Notary?
Do I have to pay fees to a Notary for the notarial services?
How much should I have to pay a Notary?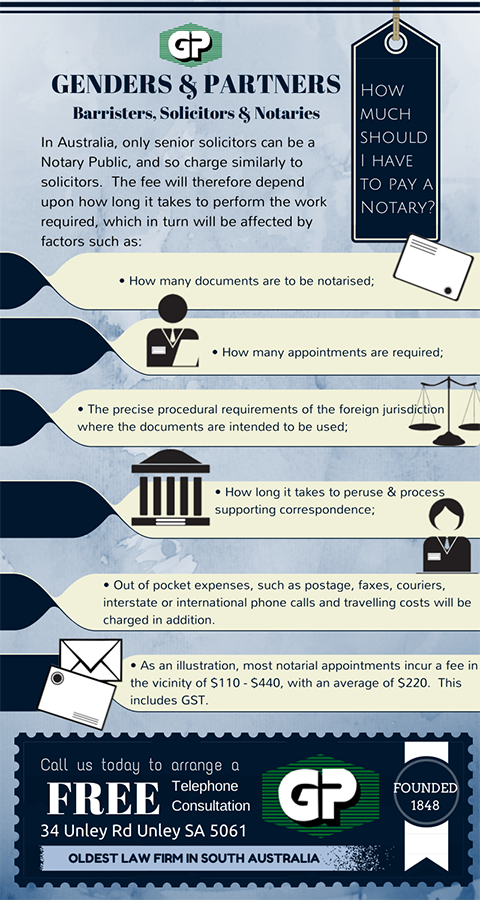 In Australia, only senior solicitors can be a Notary Public, and so charge similarly to solicitors. The fee will therefore depend upon how long it takes to perform the work required, which in turn will be affected by factors such as:
How many documents are to be notarised;
How many appointments are required;
How long it takes to peruse & process supporting correspondence;
The precise procedural requirements of the foreign jurisdiction where the documents are intended to be used;
Out of pocket expenses, such as postage, faxes, couriers, interstate or international phone calls and travelling costs will be charged in addition.
As an illustration, most notarial appointments incur a fee in the vicinity of $110 – $440, with an average of $220. This includes GST.
What Services do Public Notaries provide: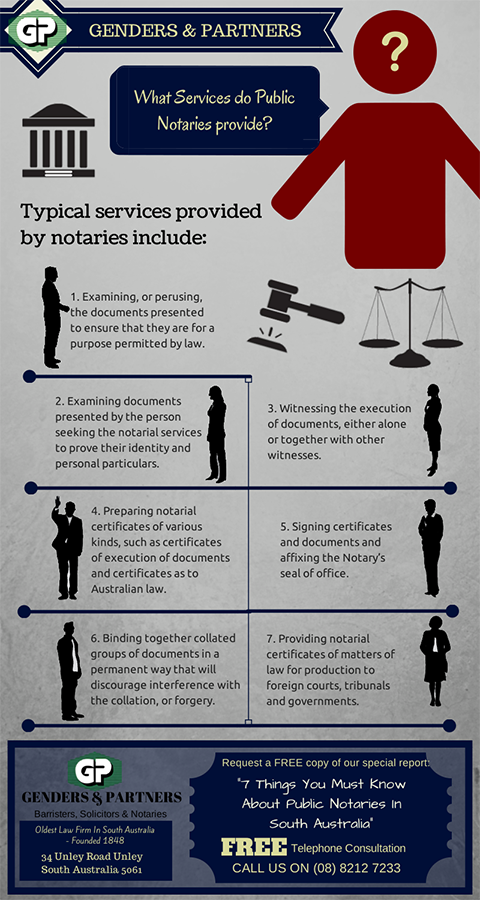 Typical services provided by notaries include:
Examining, or perusing, the documents presented to ensure that they are for a purpose permitted by law.
Examining documents presented by the person seeking the notarial services to prove their identity and personal particulars.
Witnessing the execution of documents, either alone or together with other witnesses.
Preparing notarial certificates of various kinds, such as certificates of execution of documents and certificates as to Australian law.
Signing certificates and documents and affixing the Notary's seal of office.
Binding together collated groups of documents in a permanent way that will discourage interference with the collation, or forgery.
Providing notarial certificates of matters of law for production to foreign courts, tribunals and governments.
General Information about Notarial services: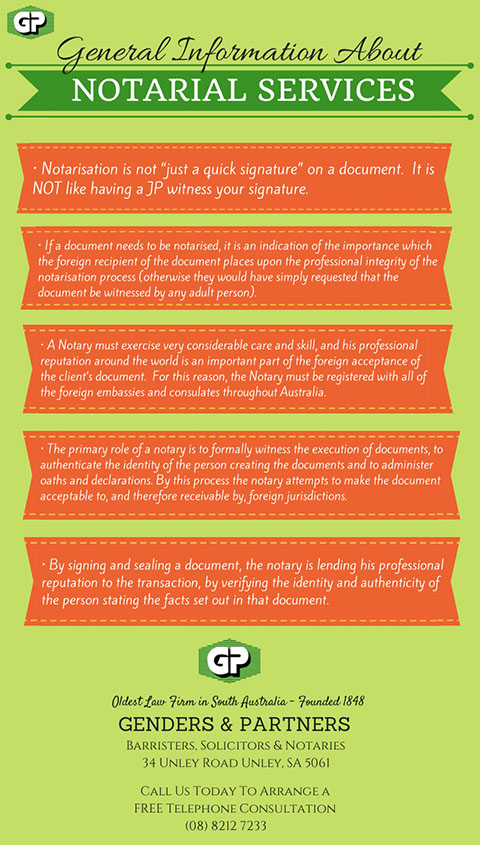 Notarisation is not "just a quick signature" on a document. It is NOT like having a JP witness your signature.
If a document needs to be notarised, it is an indication of the importance which the foreign recipient of the document places upon the professional integrity of the notarisation process (otherwise they would have simply requested that the document be witnessed by any adult person).
A Notary must exercise very considerable care and skill, and his professional reputation around the world is an important part of the foreign acceptance of the client's document. For this reason, the Notary must be registered with all of the foreign embassies and consulates throughout Australia.
The primary role of a notary is to formally witness the execution of documents, to authenticate the identity of the person creating the documents and to administer oaths and declarations. By this process the notary attempts to make the document acceptable to, and therefore receivable by, foreign jurisdictions.
By signing and sealing a document, the notary is lending his professional reputation to the transaction, by verifying the identity and authenticity of the person stating the facts set out in that document.
What ID Documents do I need to bring?
What are Notarial Acts:
Notarial acts may include :
witnessing as Notary (attesting) execution of affidavit or document;
completion of jurat or testat and sealing of original document;
preparing and completing an exhibit note;
preparing and completing a certificate as to swearing or execution;
certifying (verifying) copy documents (not including photocopy charge) and providing certificate;
time spent by the notary in research, perusal of documents, interviews, taking instructions, drawing documents other than certificates, obtaining the advice of counsel arising from notarial issues, and all activities of an unusual or difficult nature.
What is the Notary's role?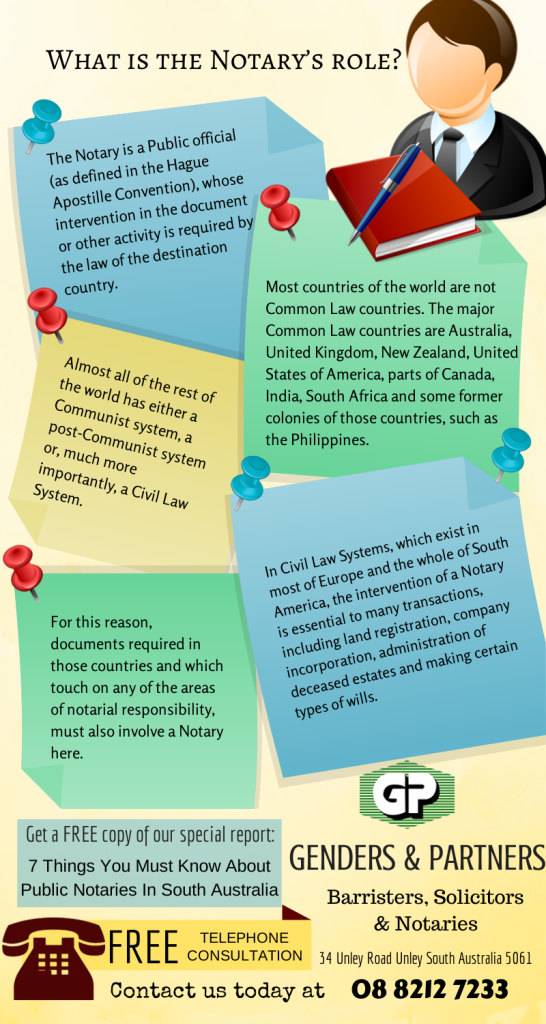 The Notary is a Public official (as defined in the Hague Apostille Convention), whose intervention in the document or other activity is required by the law of the destination country. Most countries of the world are not Common Law countries. The major Common Law countries are Australia, United Kingdom, New Zealand, United States of America, parts of Canada, India, South Africa and some former colonies of those countries, such as the Philippines. Almost all of the rest of the world has either a Communist system, a post-Communist system or, much more importantly, a Civil Law System. In Civil Law Systems, which exist in most of Europe and the whole of South America, the intervention of a Notary is essential to many transactions, including land registration, company incorporation, administration of deceased estates and making certain types of wills. For this reason, documents required in those countries and which touch on any of the areas of notarial responsibility, must also involve a Notary here.
Do the documents have to be in English?
Notarial certificates in English will be adequate for the majority of countries. However for some countries, an official translation of the notarial certificate will be required. If the document to be notarised is not in English, or if the client does not speak English, then professional NATA translators must be employed. Friends or relatives of the client are not acceptable as translators. The professional translator may also have to personally attend before the Notary, to be sworn to a separate Certificate, and the translation exercise alone will likely cost between $200-$500, which the client must organise and pay directly to the translator. We can recommend the Official SA Government Interpreting and Translating Service: Interpreting and Translating Centre (ITC) 24 Flinders St Adelaide SA 5000 ph: (08) 8226 1990;
Can a Notary simply sign or witness a document from overseas?
Sometimes, documents are in a form which is ready for completion. Typically, such documents come from English-speaking countries, or members of the former British Commonwealth. They include New Zealand, India, South Africa, Singapore and Malaysia. However it is common for many other countries to send a draft document which requires extensive redrafting if it is to be complete and acceptable in that country when sent back. This is especially true of Civil Law countries, which include all of Europe and South America, parts of Canada and Louisiana (USA). Often these documents are called 'minutes'.
Are notarial requirements always the same for all countries?
No, requirements vary widely, and this may lead to costs also varying significantly from country to country.
What is an authentication stamp?
The Department of Foreign Affairs and Trade has created a stamp called an authentication stamp for use in connection with countries which have not acceded to the Hague Apostille Convention. It is a low-level certification which is useful for some countries which require governmental reassurance, with whom we have regular transactions, such as China, Chile and the United Arab Emirates. In December 2013 it costs $20 for a single page document, or $40 for a multipage document with binding.
The authentication stamp has no legislative foundation, and has no legal effect, and cannot be substituted for the Apostille.
What is an Apostille?
Sometimes an Apostille is also required by the foreign government. This is a formal legalisation of the Notarial act at the federal Department of Foreign Affairs & Trade (DFAT) or at a foreign embassy or consulate. This is only occasionally required. No other formal requirements should be needed by the foreign jurisdiction in which the document is required. 'Apostille' is French for a 'footnote'. France co-sponsored the Hague Apostille Convention, thus its terminology was adopted. An Apostille is affixed by the relevant authority in a country which has acceded to that convention, either by a rubber stamp, verified by an authorised person and sealed with an official seal, or by attaching a separate certificate. An Apostille certifies that the Notary or government authority which issued the document is indeed authorised to do so. It does not bear any relation to the content of the document, and does not of itself confer any validity on it.
Why do I have to see a Notary as well as going to the Department of Foreign Affairs and Trade to get my document ready to send overseas?
Most countries follow the procedures set out in the 1961 Hague Convention Abolishing the Requirement of Legalisation for Foreign Public Documents (often called the Hague Apostille Convention). The steps are:
Sign and complete the document in the presence of a Notary.
Present the document to the Department of Foreign Affairs & Trade to get an Apostille, and pay the fee. In December 2013 it costs $60 for a single page document, or $80 for a multipage document with binding.
Send the finished document to the destination country.
When do I have to submit documents to the consulate of a country for legalisation?
You should not have to submit documents to a country which has acceded to the Hague Apostille Convention, but it sometimes takes a while for old practices to disappear. For example, when a country accedes to the convention, many of its nationals may not be aware of the change, and continue to seek consular involvement.
"Request an Appointment for a FREE Telephone Consultation and Receive Your FREE Report Instantly!"
NEED ADVICE? JUST ASK US A QUESTION.
(replies during business hours)